BLACK HISTORY MONTH IS NOT REAL
February 3 2020
·
February 3 2020
·
I can remember at around 9 years old, telling my oldest brother that I wanted to be Chinese because "They have so much culture".
He laughed at me and said, "You're an idiot. You think there's anyone that has more culture than black people? Imma tell mommy you said that."
I was silent, not to mention scared as hell because deep down, I knew what I said was bullshit. And if my mother knew, she'd light my ass up with the hand of GOD.
How could I possibly respond to that? Growing up in East New York, I really didn't think much beyond my NYC streets. In hindsight, all of what I knew about my African heritage was from my mom's and dad's stories, Feed the Children commercials, and Nollywood movies. And not all of those were not all that savory. Feeling grossly misinformed about my background, resulted in sleepless nights and many Google searches for the truth. This is probably where my love of research cultivated.
When it came to African American History, I was just as confused! How many of us can relate to sitting in history class, learning about the so-called 'Black History'? These lessons usually began somewhere around the quasi beginning of Slavery, were typically taught by misinformed instructors, and usually ended with Martin Luther King Jr.'s "I Have A Dream" speech. We learned about them but what about all of those untouched pages of our outdated textbooks about Nat Turner, Sojourner Truth, Mansa Musa? All too many of us grew up with this sort of foolishness. And on top of that, why the hell did we only get a month to pay attention to it??
The educational systems in America do a horrendous job of teaching Our children history as a whole. Black History is not JUST a month. Black History is not JUST slavery, though it has changed the course of our history. Black History is not JUST Rosa Parks and Segregation. These were all mega periods of the collective that is Black History. When you speak on Black History, we need to address it as WORLD HISTORY, PERIOD. Without our God-given Divinity, this world and its forgetfull inhabitants would never have modern-day haircare. The Black Hollywood excellence that is Ava Duvernay or Spike Lee would not grace our television screens. Hell, nobody would even be as MOISTURIZED as they are today! Black people have shaped this entire planet.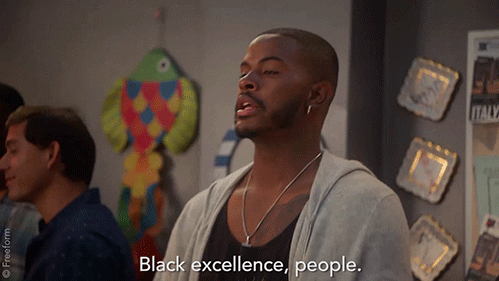 There is absolutely no reason why Black ancestry shouldn't be given the same curricular dedication as WORLD HISTORY. Let's face it, from the West african empires of Mali and Wagadou, to the countless Black inventors who were robbed of their accolades for genius innovations, African influences can be found any and everywhere (See: Kardashians and German Hip Hop). Thanks to modern-day technology, we have plenty of information at our fingertips. Learn. Your. History.
Motsoko Pheko author of "Effects of Colonization of Africa's Past & Present" writes, "History is a clock that tells a people their historical time of the day. History is the compass that wise people use to locate themselves on the map of the world. A peoples' history tells them who they are. What they have been, where they have been, where they are now, but most importantly, where they still must go."
It's 2020, people. Misinformation about our origins, heritage, our CULTURES - is not to be tolerated any longer. The proof is in the pudding, and that pudding is you. We hold the weight of our African ancestors on our back and in our hearts. Live your life daily as though you have a mission to them. Think of the millions upon millions of African lives lost in the Trans-Atlantic slave trade alone. Now multiply those lives by 5 When you take in to account the genocide called Colonization. Now add in Mass Incarceration, The Crack Era of the 70s, and Sex Slavery (a pandemic in which black women are proven to suffer the most). We'd never be able to accurately ascertain how much our people have gone through. But yet, here we are. Still standing and shaking the MF table! 
Everyday serves as a reminder that we are GOLDEN. Look at yourself daily, remember the countless lives lost, and recognize that your lineage survived. If that isn't a blessing, I don't know what is. When you dissect that, how could you not want to learn more about YOUR creation. What can be more interesting? That kind of knowledge is power. So don't fall into the game that Black History Month, the shortest month of the year, is acceptable. When we live our truth, Black History is EVERY DAY.
Until We Meet Again! Love.
Mink
Read more
Comments
✕